A Caregiver's Story – Oasis Senior Advisors
November was proclaimed National Family Caregivers Month by President Obama in 2015.
"For centuries, we have been driven by the belief that we all have certain obligations to one another. Every day, caregivers across our country answer this call and lift up the lives of loved ones who need additional support. During National Family Caregivers Month, let us honor their contributions and pledge to continue working toward a future where all caregivers know the same support and understanding they show for those they look after."
– President Barack Obama "
Caregiving Demographics and Statistics
34.2 million Americans have provided unpaid care to an adult 50+ in the last 12 months
65% of care recipients are female – average age 69.4
75% of all caregivers are female
Average age of caregivers is 49.2, and they spent an average of 25.8 hours per week providing care
85% of all caregivers care for a relative or loved one
15.7 million family caregivers care for someone who has Alzheimers or other dementia
If you are a caregiver or know someone who is, there are many resources available to help manage the challenges of caring for a loved one – everything from education on caregiving for a loved one, to free and paid resources to help manage your time, to support groups.
And sometimes it's just the need to have someone listen and to know that you are not alone.
Listen to a five-part series on Caregiving presented by Rob Senft, Oasis Senior Advisors – SW Cook County, IL.
This is a touching and very personal story of Rob's journey as the caregiver for his wife diagnosed with early onset dementia.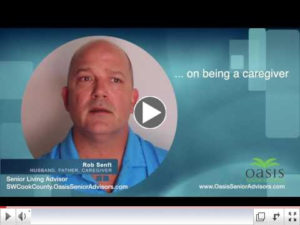 If you have a friend, family member or senior who needs help with exploring local assisted living options, please contact me today. 
 Respectfully yours,
Lisa Magnuson, CSA®
Oasis Senior Advisors
foxvalley.oasissenioradvisors.com