The Club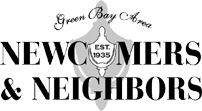 History: The Green Bay Area Newcomers Neighbors originated in 1935 by the City of Green Bay, under the wings of the YMCA, YWCA, and the Catholic Dioceses. A city and state charter was obtained in 1940, making the club a federal nonprofit organization. In the 1990's, the club changed from a charitable to a self-reliant social nonprofit organization; run independently by volunteers.
Purpose: The Green Bay Area Newcomers Neighbors, Inc is a Social Club that helps people in the community and now benefits new and current residents alike. Whether you are divorced or widowed, an empty nester, or just need a change, we offer people the opportunity to have fun while meeting and making new friends, doing activities they enjoy doing. It's year-round fun and friendships that last a lifetime!
Please take a look at what our group has to offer!
How to Join:
Pay annual membership dues of $25.00 to receive newsletters and join in on the fun!
You can call, email, or complete our on-line application form to receive additional information.